Community Mapping Online Event 2021 - Event Report
Date

Saturday 6 March 2021

Time

9:00 (COT)

Location

Online, Brazil (The Americas)

Organisers

Patricia Lustosa Brito - YouthMappers UFBA
On Saturday 6th March 2021, the eleventh Open Data Day took place with people around the world organising hundreds of events to celebrate, promote and spread the use of open data. Thanks to generous support from key funders, the Open Knowledge Foundation was able to support the running of more than 60 of these events via our mini-grants scheme.
This event received an Open Knowledge Foundation mini-grant thanks to support from Microsoft.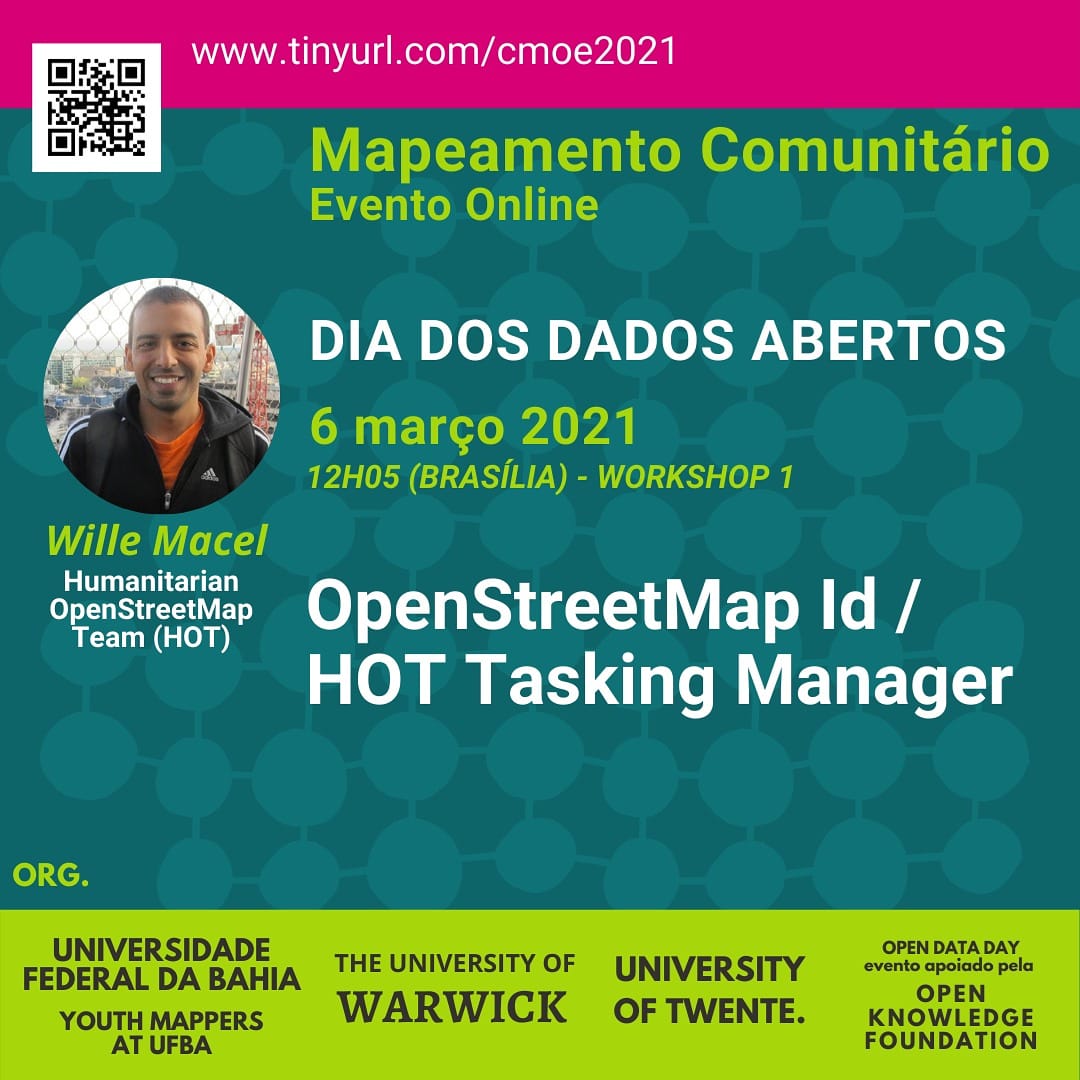 How did your event celebrate open data?
We celebrated Open Data Day with the first day of the Community Mapping Online Event.

At March 6th, we held an opening lecture with the participation of Prof. João Porto de Albuquerque (Warwick University, England), Nicera Wanjiru Kimani (Community Mappers, Kibera, Nairobi, Kenya), with simultaneous translation into Portuguese and Spanish, with the theme: Open Map Data for Community Resilience & Empowerment.

Then, we carried out three more activities: workshop 1 - OSM ID and HOT Tasking Manager with Wille Marcel (Humanitarian OpenStreetMap Team), the second YouthMappers Brasil Meeting, and a map of the YouthMappers UFBA Chapter. Since then, every Friday we have held workshops with other platforms bringing experiences from different researchers and communities that used them for their mapping. On the 29th and 30th of April, we will finally hold a closing webinar where we will discuss the experiences of these projects using these and other platforms, as well as the construction of a platform that brings together training, studies and other useful information for the community mapping carried out by the community itself.

All activities are being recorded and are available in the playlist https://www.youtube.com/playlist?list=PL63qkxAMZRh-PyM4b4QqeiQKlSQbJ_9Br some have already reached more than 150 views.
Lessons learned from your event
Participation of community members depends on greater engagement in the organisation and dissemination of the event by the researchers who work with them. On the other hand, the demand for spaces for discussing these themes is desired and very appreciated by students, researchers and professors who wish to carry out these mappings but more than that, that want the community to appropriate these tools and use them for their own benefit. The possibility to have simultaneous translation also is an important point to gather different perspectives allowing not usual interactions.
Why do you love Open Data Day?
Map engagement everywhere with everybody!
Did you or your team produce any resources (datasets/tools/maps/code/etc) during your Open Data Day celebrations?
At the mapathon we worked on HOT Task Manager project #10486 specially created for our event.

All videos, Instagram cards, links to tools, etc used during the event are available on the event website https://sites.google.com/view/communitymappingonlineevent/