Open Data Day: Monitoreando Femicidios en Venezuela con Utopix - Event Report
วันที่

Saturday 6 March 2021

เวลา

17:00 (VET)

สถานที่

Online, Venezuela (The Americas)

ผู้จัด

Aimee Zambrano Ortiz and Sahili Franco Cipriani
On Saturday 6th March 2021, the eleventh Open Data Day took place with people around the world organising hundreds of events to celebrate, promote and spread the use of open data. Thanks to generous support from key funders, the Open Knowledge Foundation was able to support the running of more than 60 of these events via our mini-grants scheme.
This event received an Open Knowledge Foundation mini-grant thanks to support from the Latin American Open Data Initiative.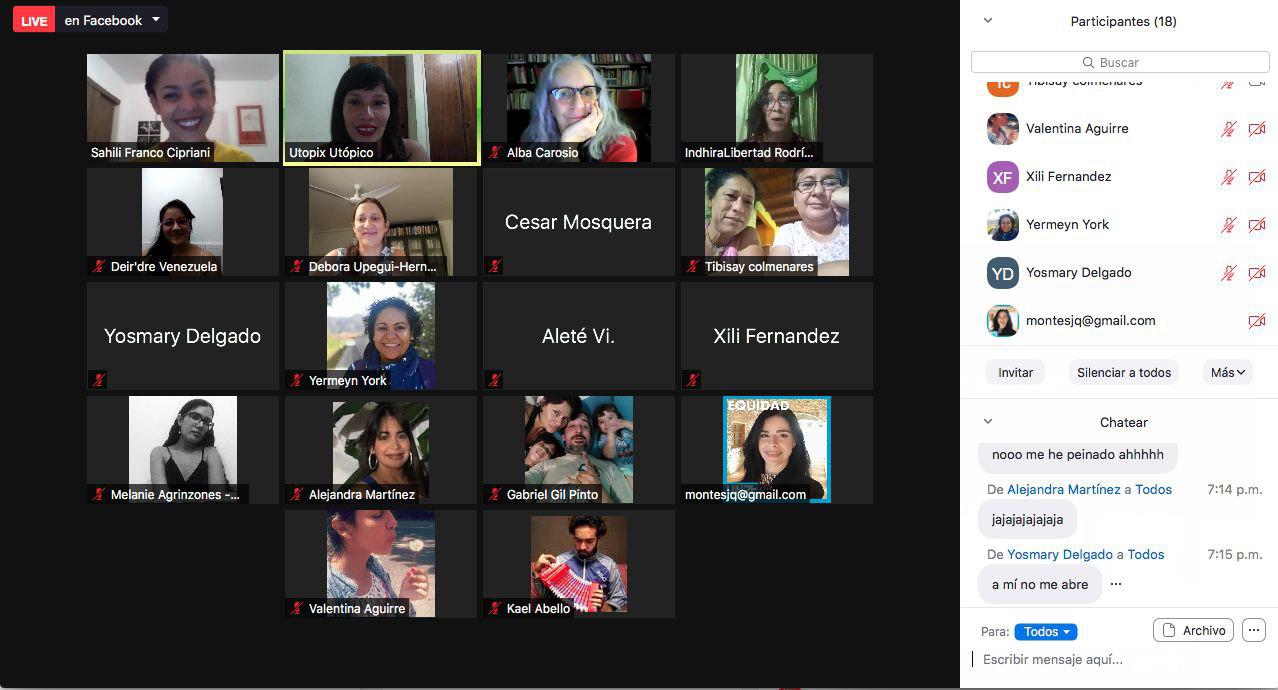 How did your event celebrate open data?
For our online session during Open Data Day we organized a webinar called "Monitoreando Femicidios en Venezuela con Utopix" (Monitoring Femicides in Venezuela with Utopix). Sahili Franco Cipriani, editor, producer and translator, moderated the activity and introduced the speakers. Then, she lead the space for Indhira Libertad Rodríguez (who spoke about the contextualization of violence in Venezuela and Latin America under an intersectional and gender justice perspective), militant part of the Red de Colectivos La Araña Feminista, who was our special guest. After, Aimee Zambrano Ortiz, founder of the femicide monitor, introduced the monitor and shared our data and methodology. After, Sahili intervened with the importance of feminist data and the relation between gender and social science, and finally we opened the floor for questions and answers, which lasted almost 40 minutes. The debate was exquisite. Our webinar lasted 1hr and 59 minutes.

For the promotion of the event we published an entry on our website. Then, we designed a flyer and shared it through Whatsapp, Facebook and Instagram along a Google Registration form so participants could register and we could gather info regarding who was interested: we asked for names, emails, countries, how had they known of the activity and if they wanted to be part our mail list. Then, a day before the event, we shared the Zoom link with the 77 registered persons from Latin America, America and the US. Of that total, 23 participated in the webinar and by the time we were done, 21 were in the room, most of them form Venezuela. The number remained throughout the whole session. The link on the Facebook page has more than 400 views.
Lessons learned from your event
What we've learned:
1) Promote the event widely in advance. We did it with less than a week from the event.
2) Centralise and optimise the automatic mail response with the Zoom link after people have registered. MailChimp is our best choice so far, as it's the engine we use in our website. Sending emails with the event link manually is exhausting and has a human error range.
3) Ask for phone numbers in the registration form as it helps to send a reminder of the event.
4) Hosting the event through Zoom (or other platform) in parallel with YouTube or Facebok is definitely a great idea; afterwards we have a secure link for sharing our event so people can watch it.
5) The moderator cannot be a panelist as well. Although it was a success, it worked because there were twenty or so people in the room. If there had been more it would have been difficult to tend to both roles.
Why do you love Open Data Day?
It was an amazing opportunity to not only share data across the globe, but to bring together people from different localities and countries in a single space and share knowledge and points of view regarding gender-based violence in its femicide form, the situation in Latin America, and how we have been working to shift the world. It's a special and incredible important event for human kind, and we do hope to continue participating in it. It was an honour.