¡Qué vivan los datos! Data journalism training for Open Data Day 2021 in Guatemala - Event Report
Date

Saturday 6 March 2021

Time

14:20 (CST)

Location

Online, Guatemala (The Americas)

Organisers

Ojoconmipisto
On Saturday 6th March 2021, the eleventh Open Data Day took place with people around the world organising hundreds of events to celebrate, promote and spread the use of open data. Thanks to generous support from key funders, the Open Knowledge Foundation was able to support the running of more than 60 of these events via our mini-grants scheme.
This event received an Open Knowledge Foundation mini-grant thanks to support from Microsoft.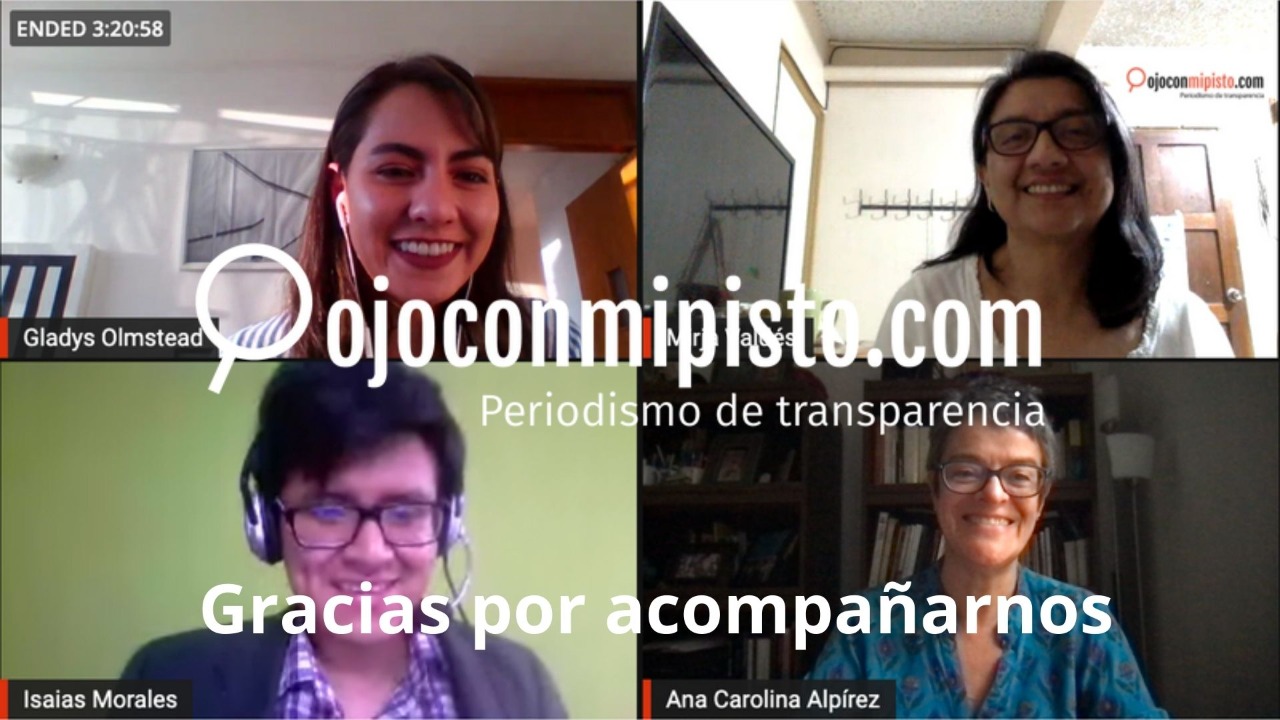 How did your event celebrate open data?
En Ojoconmipisto celebramos el Open Data Day con cuatro charlas virtuales dirigidas a estudiantes de periodismo. La transmisión se hizo a través de Facebook, YouTube y Periscope, y esto nos permitió llegar a 359 personas, una cifra mayor a la prevista. Cerramos con la rifa de diez ejemplares de la guía "Fiscalizar desde el periodismo. Una guía para monitorear obras y compras públicas", editada por Ojoconmipisto.

Silvio Gramajo, especialista en temas de transparencia, explicó los conceptos sobre información pública. La rendición de cuentas, dijo, debe enfocarse en "los cuentos de la cuenta". Es decir, en narrativas que expliquen las decisiones tomadas por cada municipalidad.

Isaias Morales, reportero de Ojoconmipisto y autor de la guía, se centró en los pasos a seguir para encontrar información en Guatecompras, el portal que registra todas las compras estatales, y en otros sitios de Datos Abiertos del ministerio de Finanzas. Son espacios que la ciudadanía puede utilizar para seguir la ruta del dinero público.

Daniel Ambeliz, analista de datos, compartió herramientas que utiliza para analizar las compras públicas, como Power BI. Hizo uso de una base de datos de compras de 2020 para identificar historias que podían ser contadas. Gladys Olmstead, community manager de Ojoconmipisto, compartió las notas informativas más destacadas que partieron de datos y de solicitudes de información pública para contar no sólo como se usan los fondos públicos sino también como el gobierno informa sobre la Covid–19.

Se sortearon diez ejemplares de la guía entre los 35 participantes que completaron el funcionario. Se les hará llegar por correo.
Lessons learned from your event
a. Existe una comunidad de estudiantes de periodismo que desea aprender sobre este tema. Quieren conocer por qué la Ley de Acceso a la Información Pública puede convertirse en una herramienta de trabajo periódistico, cuáles son los portales públicos y qué información podemos obtener de ellos. Pero también quieren aprender a navegar en ellos.

b. Este año se hizo la actividad de forma virtual por las restricciones existentes por la pandemia. Si bien permitió llegar a un número mayor de lo previsto (359 versus 25 personas) la interacción fue más limitada a cuando hacemos actividades cerradas. Pero nos permitió llegar a más lugares.

c. En 2022 esperamos realizar la actividad de manera presencial.
Why do you love Open Data Day?
Nos da la oportunidad de compartir con estudiantes de periodismo qué hacemos y mostrarles que podemos contar historias a partir de los datos.
Did you or your team produce any resources (datasets/tools/maps/code/etc) during your Open Data Day celebrations?
Solicitamos a los participantes que quisieran participar en la rifa que se registraran, 56 lo hicieron. Se pidió el nombre, dirección y correo electrónico.

En este link pueden consultar la guía: https://ojoconmipisto.com/open-contracting/guias/Guia%20OC%20-%20Media%20Carta%20Digital.pdf