Gênero e dados: o mercado de trabalho para mulheres na pandemia - Event Report
Date

Saturday 6 March 2021

Time

10:00 (BRT)

Location

Online, Brazil (The Americas)

Organisers

Maria Martha Bruno - Gênero e Número
On Saturday 6th March 2021, the eleventh Open Data Day took place with people around the world organising hundreds of events to celebrate, promote and spread the use of open data. Thanks to generous support from key funders, the Open Knowledge Foundation was able to support the running of more than 60 of these events via our mini-grants scheme.
This event received an Open Knowledge Foundation mini-grant thanks to support from the Latin American Open Data Initiative.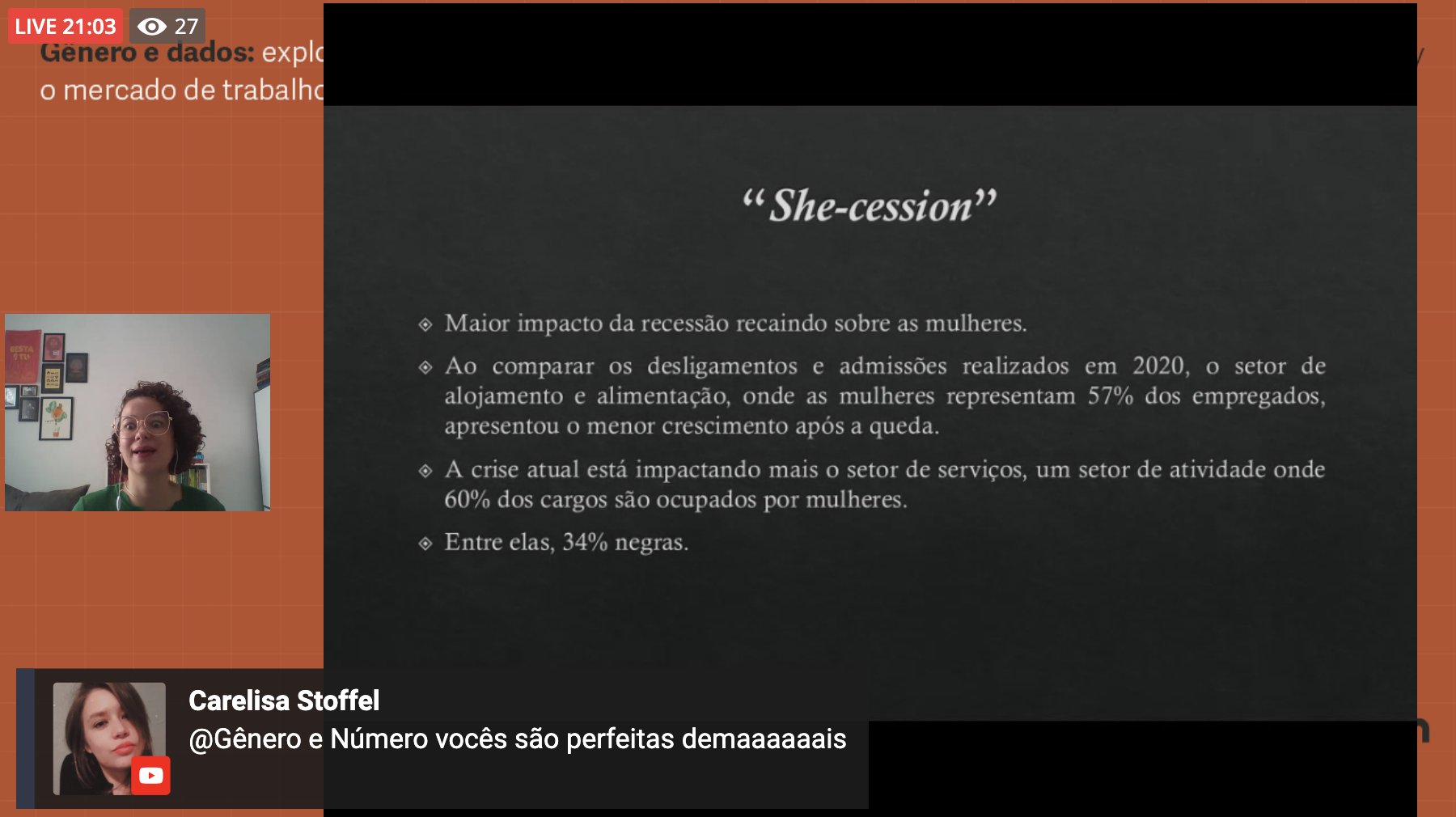 How did your event celebrate open data?
The numbers and information that explain hurdles in Brazil's labour market for employed and unemployed women in the pandemic are accessible and available, but many people don't know how to find it and explore it. As a data journalism organisation that tackles race and gender issues, it is part of our mission to shed a light on both the labour crisis that affects women in Brazil and the data that explains this context.

During the event, we stressed that all the data we work with is organised, structured, and available on our website. Gênero e Número's Open Data session is one of our most visited pages and also contains all the data we use to base all of our stories. We also provided the links to all the databases explored during the event (some from Brazil's main data provider, IBGE), and showed some of the R scripts used to mine, structure, and analyse the numbers.
Lessons learned from your event
A well prepared event - with streaming tests, a special lay-out, presentations and social media promotion - has good results. We had a significant - and engaged - audience that positively surprised us during our Saturday morning live event. It helped us to strengthen our reputation as a data journalism organisation that is specialised in gender and race issues, and to enlighten and enhance the debate related to these subjects.
Why do you love Open Data Day?
It is a great opportunity to gather with the data community and to deepen our connection with our audience. It also helps us to get to know other initiatives in data journalism and to improve our skills, by taking part and learning in other events held on the day.
Did you or your team produce any resources (datasets/tools/maps/code/etc) during your Open Data Day celebrations?
Yes. We released brand new microdata used in our survey "Women's life and work during the pandemic", which had national repercussions in 2020 and was one of the subjects discussed in our event.

The presentation from our data coordinator is also available as well as all of the links to the databases and scripts explored in the event (they are in the video description here).